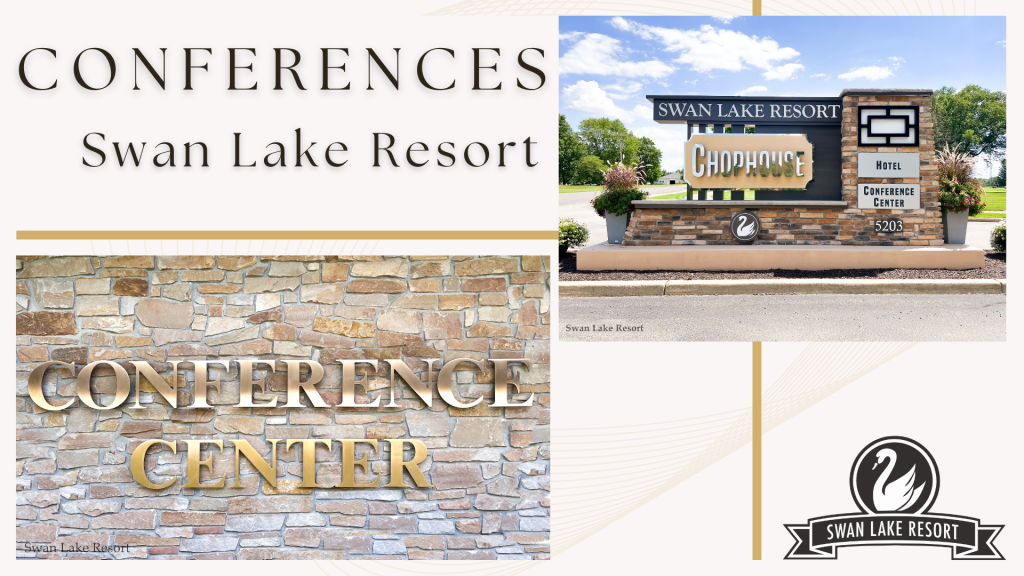 Meetings and Conferences at Swan Lake Resort
It is easy to diversify and maximize your event at Swan Lake Resort, from our large ballroom to multiple breakout rooms. The centerpiece of the conference center is the Grand Ballroom, with over 10,000 sq. ft. that can be divided into three separate rooms. The main conference space is complimented by Garden Court East and West, which are ideal for smaller functions or breakout meeting spaces. All rooms are adjacent to the beautiful courtyard, with a gazebo, relaxing fountain, and golf course views.
If it is a room with a balcony view you are looking for, Forum A & B overlook the outdoor pool and golf course.
Northern Indiana Conference Center
As one of the premier conference facilities in Indiana, Swan Lake Resort & Conference Center offers one of the most inviting meeting spaces in the Midwest.
Central location, close to many major metropolitan areas in the region
Indoor and outdoor meeting venues to accommodate groups of all sizes and needs
7 function rooms with over 20,000 square feet of highly versatile space
State-of-the-art audio & visual capabilities for presentations (included in conference room rentals)
Variety of lodging options for overnight stays
Outstanding banquet services customized to your needs
Recreational facilities including two 18-hole championship golf courses
Convenient Location
Conveniently located in Northwest Indiana, our proximity to several Midwest metropolitan areas makes Swan Lake Resort & Conference Center an ideal meeting location. And we are easily accessible from all directions, and the traffic here won't slow you down.
25 Miles from South Bend and Notre Dame
77 Miles from Fort Wayne
92 Miles from Chicago
127 Miles from Indianapolis
142 Miles from Grand Rapids
Meeting and Conference Rooms for Any Event
Featuring over 20,000 square feet of highly versatile event space, our meeting venues can accommodate any function for any sized group – from a weekend team-building retreat for 8 people in our smaller business meeting rooms to conferences for 500 guests in our grand ballroom.

Event Planning
Large or small, indoor or outdoor, every event at Swan Lake Resort & Conference Center is treated individually and handled with close attention to detail. Our professional staff will assist with any conference or meeting planning to ensure that your event is a success.DF available in a new tab
Conferences/Meetings Inquiry
Swan Lake Resort's inviting Conference Center is the ideal destination for your organization's next event. To learn more about our comprehensive meeting facilities, info available in a PDF in a new tab outstanding guest accommodations, info available in a PDF in a new tab exceptional dining and banquet services, info available in a PDF in a new tab and recreational opportunities, info available in a PDF in a new tab please contact our sales team using the information and form below.
John Bryan
Resort Event Sales Manager
Local: (574) 935-5680 ext. 781
Toll Free: (800) 935-5616 ext. 781
Or fill out the following Conferences/Meetings inquiry form, and our sales staff will contact you about your event.