Swan Lake Resort Overnight Accommodations
At Swan Lake Resort, we take your comfort seriously. You will find relaxing, and well-appointed accommodations complete with the in-room amenities resort guest have come to expect. No matter where you stay on property, you will experience the attention to detail you would expect and deserve.
Hotel, Suites, Villas, Cottages, and Cabins
A unique and pleasant feature of Swan Lake Resort is the diversity of our accommodations, including deluxe hotel rooms and suites, fairway villas, beautiful log cabins, quaint cottages, a spacious fairway house, plus complete recreational vehicle pads.
Swan Lake Resort offers 92 welcoming hotel rooms, many of which offer golf courses or poolside views. The fairway villas are modern and offer an outstanding view of the finishing hole of the Black Course. The cottages and log cabins are a rustic getaway perfect for an escape from the norm. And the fairway house with back porch and yard is undoubtedly a home away from home.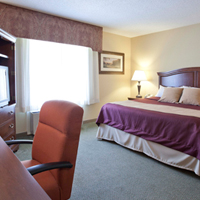 Resort Rooms
All rooms feature flat-screen cable TVs, in-room fresh brewed coffee, all-day room service, wireless internet, hair dryers, either two queen beds or one king bed, a desk area, iron and ironing boards, and oversized mirrors. Preferred locations include Poolside Rooms with patio access and golf view Rooms with outstanding golf and fairway views.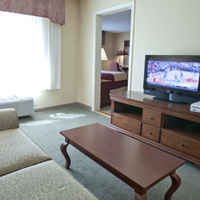 Standard Suites
Each suite features one bedroom with a connecting living room. Two TVs, a sofa, a king bed, and standard hotel amenities await. For those special occasions or just for every day, these suites offer an elegance that will be a wonderful addition to your stay.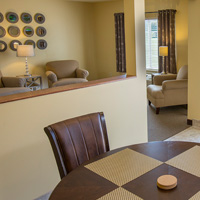 Presidential and Owner's Deluxe Suites
New spacious and luxurious suites offer a bedroom and a large living area with a queen sofa sleeper. The Owner's Suite also has a kitchenette with a dining table and access to a private outdoor deck.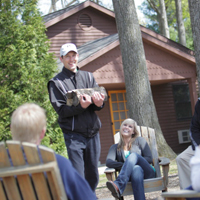 Cottages
Quaint cottages give our guests extra space and an apartment-like feel when staying at the Resort. Knotty pine fresh interiors are furnished with two full beds. Some cottages have a sofa sleeper. All Cottages include a microwave, wet bar/dining area, two TVs, and a mini-refrigerator.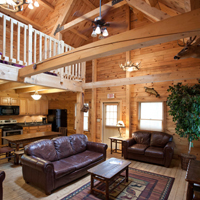 Log Cabins
Two-story log cabins are set back 200 yards from the Pool and Fitness Center wing of the resort and include three sleeping areas, flat-screen TVs, four bathrooms, a living room, a wet bar with microwave, a small refrigerator, and a game/dining table.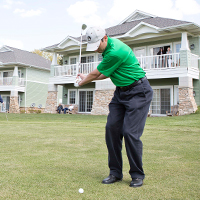 Fairway Villas & House
Our beautiful, suite-like villas include two bedrooms, one oversized bathroom, and a beautiful view of the golf course fairway. Flat-screen TVs, modern décor, a wet bar with a microwave, a small refrigerator, and a gaming/dining table are included. Our Fairway House sleeps 12 with the comforts of home.
With such a wonderful array of options, you can enjoy a new experience with each stay. So come – stay awhile. We have a place just for you.
Download Swan Lake Resort & Conference Center Brochureavailable on our accommodations page
Outstanding Banquet Services and Restaurants
If you are in need of catering, our full-service kitchen and banquet staff will prepare and serve outstanding meals and tempting treats. Swan Lake Resort's culinary team has developed various banquet and restaurant menus that will fit your budget. There are also two restaurants on the resort property. The Swan Lake Chophouse offers a unique dining experience for fun-loving sophisticated souls, and Putter's Bar & Grille offers a fun and relaxed atmosphere with all your favorite pub-style food to enjoy after a long day of meetings.
Banquet Menu info available on our Banquet Menu page | Swan Lake Chophouse info available on our Dickies Restaurant page | Putter's Bar and Grille info available on our Putter's Bart and Grille page
Recreational Facilities including Two 18-hole Championship Golf Courses
Onsite, our resort includes beautiful amenities to keep your attendees relaxed and entertained.
Fitness center
Indoor and outdoor pools
Two In Ground Spas
Swan Lake Resort is also known for its two expertly-maintained championship golf courses designed for the enjoyment of both accomplished golfers and those still learning the game. Our 36-holes of golf are often described as "in Country Club condition," but you won't be paying private club fees to enjoy outstanding golf, facilities, and service. Swan Lake Resort offers a modern clubhouse, a fully stocked golf shop, and a sports bar-style grille room.
Golfing at Swan Lake Resort & Conference Center info available on our golf page | Fitness Center and Pools info available on our Fitness Center and Pools page